Paolo Busti Scholarship Essays
The Gautieri Family Gives Back
* Boy Scouts/Girl Scouts/Cub Scouts
* Paolo Busti Cultural Foundation
* GCC
At the 2007 Boy Scouts of America meeting in Atlanta, Georgia, Vito J. Gautieri, Chairman and CEO of V.J. Gautieri Constructors, Inc., was named President of Area 3 for the Northeast Region. Area 3 consists of 12 Councils which have over 45,000 registered youths.
*Passage taken from Joanne Beck article in Batavia Daily News
His efforts made national news this year in both the Northeaster, a publication of the Northeast region of Boy Scouts of America, and National Italian American Foundation News."This is a boon to us; we certainly couldn't afford to rent both the Lockport and Batavia sites. Locally we're doing very well, we have a great participation in year round programs," Jim McMullen (Iroquois Scout Executive) said. "Lockport is not central to our geography. We serve Niagara, Orleans, Genesee, Wyoming and Livingston counties. We have 4,000 youth.""I look at it not as a gift, but as an investment for the future of Scouting in our area." Vito said.
Genesee County ARC, A Chapter of NYSARC, Inc. The Gautieri Family has been active in contributions and fundraising events for many years and at the request of Sandy Konfederath from ARC, are proudly being added to this page.
Notre Dame High School The Gautieri Family has long been active in the ND Annual Golf, Tennis and Bocce Tournament. Vito, an avid tennis player, has competed for many years. The past few years his children (Valerie, V.J. and his wife Lisa) and niece and nephew (Vicki Gautieri Johnson and Bill Metz) have played Bocce in honor of Vito's brother, Vinny Gautieri.
Girl Scouts of Genesee Valley, Inc. Program Manager, Kathie Woika, received a "Build-up" Kit for use in their program this year. Donated by VJ Gautieri Constructors, the kit will supply 30 girls with activities and crafts related to the building and construction fields.
The Cub Scouts Troop 60 in Attica, NY is also a beneficiary of the Gautieri family's gifts of time and money. Victor Gautieri, President of VJ Gautieri Constructors, is a dedicated volunteer with the Pack for over a decade. Victor is active with the committee, Fund raising events, the popcorn drives and the Pinewood Derby, dedicating countless hours of time each year.
The Paolo Busti Cultural foundation of Genesee County is an affiliate group of NIAF (National Italian American Foundation). As one of the founding members and a past President, Vito Gautieri has been involved with this group since 1984. The group works to promote the positive contributions of Italian Americans. One of the biggest events for the foundation is the Annual Scholarships. Thousands of dollars are given yearly to deserving high school seniors bound for college.
The Genesee Community College Foundation has had a Board Member and advocate in Vito Gautieri for many years. He was President the year $1.5 Million was raised to build the new Technology Center. His Construction and Business Experience have been an advantage to the foundation and the community it services.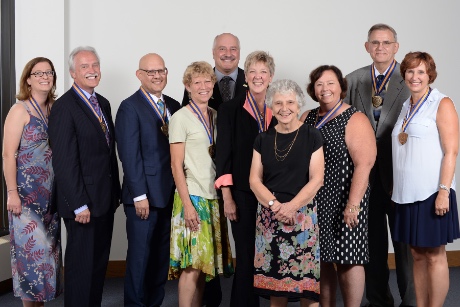 Photo provided by GCC. Award winners -- all wearing medals around their necks -- are pictured from left: Michelle A. Peck, M. Richard Dudkowski, Rafael Alicia-Maldonado, Ph.D, Karen Huffman, Ph.D, Carol Marriott, Pamela N. Lusk, Edward J. Grabowski, and Karen K. Wicka. (Not shown: Roxanne M. Holthaus.) GCC President James Sunser is standing in back in the center. Chair of GCC's Board of Trustees Laura Bohm is standing in front with her hands clasped together. 
Press release:
Nine members of the Genesee Community College faculty and staff, two of whom live in Genesee County, have been recognized by State University of New York Chancellor Nancy Zimpher for outstanding contributions to their profession, the campus and the community. The Chancellor's Award for Excellence is given in recognition of consistently superior professional achievement and encourages the ongoing pursuit of excellence.
The following GCC faculty and staff members earned the 2016 award and were honored at a reception on the Batavia Campus Thursday, Aug. 18,in the Stuart Steiner Theatre.
Award for Excellence in Teaching
***Roxanne M. Holthaus, Assistant Professor, Nursing – Holthaus joined GCC as a full-time faculty member in 2009. With over 16 years of experience, both as a highly engaged registered nurse and a family nurse practitioner in a university setting, Holthaus was promoted by the College to the rank of assistant professor of Nursing in 2015. She earned a bachelor's degree in Biology from SUNY Binghamton and a bachelor's and master's degree in Nursing from the University of Rochester School of Nursing. Entirely dedicated to the success of her students, Holthaus is the coordinator and point of contact for the "Nursing Boot Camp" program, a series of clinical lab and simulation exercises run for two to three nights during the months of July and/or August, as a means of helping students maintain their nursing skill set during the semester break. In the classroom, Holthaus uses multiple techniques to enhance the learning environment and believes that all students enrolled in the nursing program have the right to learn and the chance to be successful. She believes that students need to be reached where and how they learn best, which means understanding that the same approach will not work for all. ***Holthaus resides in Le Roy.
Karen K. Wicka, Assistant Professor of Criminal Justice – Wicka was an attorney who left the practice of law to pursue her passion of teaching. She began her time at GCC as an adjunct professor of criminal justice in 2001 and was hired as a full-time instructor in 2008. As of 2012, Wicka has held the title of assistant professor. In addition to classroom learning, she has taken an active role in promoting learning through other school activities, including the Criminal Justice Club which she is a co-advisor for. Within the club, Wicka aids students in running various activities and events which help them learn more about and participate in the criminal justice field. She has also inspired in students to give back to the community through various service activities such as raising money for the Genesee County K-9. Wicka obtained a bachelor's degree in Political Science from SUNY Potsdam before earning a juris doctorate from Albany Law School of Union University. Her legal experience includes serving as an associate for Bond, Shoeneck & King, LLP, in Buffalo and O'Connell and Aronowitz, P.C. in Albany, where she previously worked as a law clerk. Wicka is a member of the Criminal Justice Educators Association of New York (CJEANYS), Academy of Criminal Justice Sciences (ACJS), the National Association of Criminal Defense Lawyers and the New York Bar Association. She continues to give back to the College with her time as a volunteer for the Scholars Symposium and the New York State Historical Society Essay Contest for GCC, helping students prepare and revise essay submissions. She resides in Hamburg.
Award for Excellence in Adjunct Teaching
Edward J. Grabowski,Adjunct Instructor of Social Science and Business – Grabowski teaches a variety of courses at GCC across multiple disciplines, including Criminal Justice, Business Law and Paralegal Studies, and at several locations. He has taught on an adjunct basis at the College since 2007, bringing a level of excitement and entertainment to the classroom. Grabowski's teaching style creates an atmosphere that is highly conductive to student learning and he does whatever he can to help students be successful, frequently going above and beyond expectations of adjuncts to help a student in need. His career in law enforcement began with an A.A.S in Police Science from GCC in 1976. He then earned a B.S. in Police Science and Education from Buffalo State College and finally, Grabowski received a J.D. from the University at Buffalo School of Law in 1997. Heavily involved in his community, he has been a Boy Scout leader for 20 years and teaches law and criminal justice-related merit badges to Boy Scouts. Grabowski is a member of the Orleans Niagara BOCES School Board and has a professional Santa Claus costume, portraying Santa since 1982 at local events. He resides in Medina.
Pamela N. Lusk,Adjunct Instructor of Social Science and Health – Lusk has taught for GCC since the Albion Campus Center opened in the fall of 1990. Her background and education allow her to teach in multiple subject areas, including Psychology, Health, Human Services and Sociology. Lusk obtained a dual-major bachelor's degree in Health Education and Community Development and a master's degree in Health and Social Sciences from The College at Brockport and completed her Ph.D in Psychology from Cornell University. She has been so highly regarded at Genesee that she has been asked to fill other temporary assignments for the College including acting associate dean for the campus center and wellness coordinator the Title III Grant. In addition to teaching, Lusk volunteers her time both within the College and in her community and encourages her students to do the same. She has led the Albion Campus Wellness Student Club and has overseen numerous fundraisers and other service projects to help those in need. Lusk's exuberance and positivity is contagious, not only with students, faculty, and staff but also with community members.
Award for Excellence in Scholarship and Creative Activities
Karen Huffman, Ph.D, Assistant Professor of Biology – Huffman has been a member of the College's Science faculty since 2011 and has become an integral part of the department, being promoted to the rank of assistant professor in the fall of 2014. She has been instrumental in developing service learning at Genesee and has worked to develop coursework with colleagues from across the academic divisions to help students learn better study skills, note taking, and develop writing skills. Huffman graduated with Honors from Indiana University, earning a Bachelor of Science degree in Microbiology. She then moved to Texas and completed a Ph.D in Biology at the University of Texas, teaching, carrying out original research, and presenting at national meetings. Her teaching includes stints as an adjunct professor at a number of community and four-year colleges in Chicago and Buffalo, and as a high school biology teacher at Mt. Mercy Academy in Buffalo. Beyond GCC, Huffman serves on several state level committees including the NYS Science Content Advisory Panel and the Science Teachers Association of New York State, where she serves on the Board of Directors and was recently elected as the statewide college level representative. She was instrumental in planning and executing the College's first Scholars Symposium Day, which was held in the spring and provided a platform for students and faculty to present their research on topics of interest to them. Huffman continues to represent GCC through presentations that she makes at local, state and national conferences as well as through a long list of publications.
Award for Excellence in Faculty Service
M. Richard (Rick) Dudkowski,Professor of Business/Marketing/Fashion – Dudkowski has been a valued member of the GCC faculty since 1984, making significant contributions to the College and in particular, the Fashion Business program. He was hired as the first full-time faculty member in the Fashion program and through his leadership, the program has grown from 12 students to its current enrollment of 73 students. He is well known in the Western New York fashion industry and is frequently sought after to serve as a guest speaker or judge for an event. "Mr. D," as he is called by his students, was the 2001-2002 recipient of the SUNY Chancellor's Award for Excellence in Teaching and the 2008-2009 recipient of the SUNY Chancellor's Award for Excellence in Scholarship and Creative Activities. He is currently co-chairing the College's 50th anniversary steering committee and he co-chaired the 20th anniversary steering committee, helping to organize special events to recognize the founding of GCC. Under Mr. D's watch, the annual fashion show celebrated its 35th anniversary in the spring and has grown into the largest and longest-running fashion show in Western New York. For the past 15 years, under the direction of Mr. D, the Business Forum Club has hosted the annual "Ducky Derby," raising thousands of dollars to support the United Way. Richard earned an associate degree in Business Administration from Erie Community College, a bachelor's degree in Consumer and Business Studies from Buffalo State College, a master's degree in Vocational and Technical Education from Buffalo State College, and he has completed all but the dissertation at the University at Buffalo in the Educational Doctorate program in Vocational Education. He resides in Clarence.
Award for Excellence in Professional Service 
Rafael Alicea-Maldonado, Ph.D, Dean of Math/Science and Career Education – "Dr. RAM," as he is known on campus, came to GCC as an instructor of Chemistry in 2000. He received the SUNY Chancellor's Award for Excellence in Teaching in 2004-2005 and after reaching full professor status in 2010, and he won again in 2011 for Faculty Service. He oversees 40 academic programs, a significant portion of the Academic Affairs division. A native of Puerto Rico, Dr. RAM earned a bachelor of science degree in Chemistry from the University of Puerto Rico and a doctoral degree in Chemistry from the University at Buffalo. He was awarded the Mattern-Tyler Excellence in Teaching Award from the Department of Chemistry at UB, has authored several publications, and has presented at over a dozen conferences. In August of 2011, Dr. RAM was became the academic dean of the Math, Science & Career Education Area at GCC after the College conducted a nationwide search for the position. He currently teaches the Intro to Chemistry course in an online format, which he developed. Dr. RAM resides in Buffalo.
***Carol Marriott,Associate Vice President for Institutional Research and Assessment – Marriott's career at the College began in 2000 as a temporary grant coordinator to oversee operations of a Title III Grant. Under her direction, the grant provided GCC with a strengthened endowment and several facilities that greatly improved the quality of the learning experience, setting the College apart from its peers. At the end of the grant, Marriott returned to school and obtained a master's degree in Higher Education from the University at Buffalo before returning to work at Genesee as the director of Institutional Research. She advanced to the position of associate dean for Institutional Research and Assessment in 2009 before being named associate vice president in 2012. Under Marriott's leadership, Genesee has never missed a deadline, or been unable to accommodate a change to reporting requested by external stakeholders such as SUNY or Middles States Commission on Higher Education. Her creative and innovative approach to problem solving has resulted in the development of major decision-making tools at the College, such as the Genesee Strategic Intelligence (GSI) system. Her leadership has put GCC at the forefront of its peers and been recognized at the state level as well as by Middle States. ***Marriott resides in Corfu.
Award for Excellence in Classified Service
Michelle A. Peck,Secretary of Health, Physical Education and Athletics – Peck started her career at the College in 2007 and she has been an integral part of the Health, Physical Education and Athletics departments from that time forward. Serving as secretary to both the director of Athletics and to the director of Health and Physical Education at GCC, Peck's work requires a high level of organization and her daily routine consists of multitasking to complete several projects in a timely manner. She has served on several search committees and is a member of LEAD, which is a leadership, development committee for student athletes. Peck actively assists in organizing and participating in several events each year, such as the GLOW Corporate Cup, athletic team games and fundraisers, Mission Condition, Athlete Olympics, Mini-Summit, Athletics Hall of Fame, and more. She continuously meets the needs of hundreds of students, faculty, athletes and coaches each year while balancing her responsibilities and efforts under two supervisors. Peck resides in Orangeville.